Looped Ends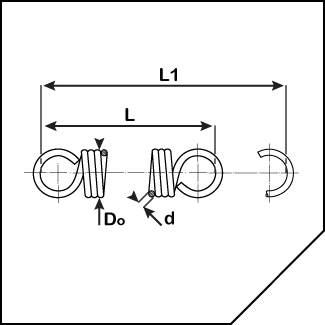 SPEC® Looped End Extension Springs are coiled, with loops at the ends for mounting. Standard parts are offered in various materials, but others are available via our engineered services. Higher volume OEM production quantity pricing is available, simply contact us or request a quote. Load P and Spring Rate are +/- 10%, springs should not be extended beyond L1 for optimal service life. Material recommended service temperatures are as follows:
Music Wire or Piano Wire (applications up to 121 degrees C / 250 degrees F)
Stainless Steel (applications up to 260 degrees C / 500 degrees F)
316SS (applications up to 300 degrees C / 570 degrees F)
See our Spring Anchors for easy mounting of extension springs! Technical terminology is defined in the FAQ section.
Loading products...
Click Here to Request a Quote
or call us today at 800.872.7732